Share the PSEA Summer School:
Digna is offering "PSEA Summer School" for Canadian Organizations working in International Cooperation, with the goal of increasing capacity to prevent and address Sexual Exploitation and Abuse. By participating in the PSEA Summer School, your organization will be able to:
Equip senior leaders with the knowledge needed for strategic oversight of PSEA
Build the capacity of those responsible for key PSEA roles within the organization; and
Ensure that all staff know how to prevent and respond to sexual exploitation and abuse in a way that ensures a survivor-centered approach, promotes power shifts in ways of working, and enables programming to succeed with reduced risk of SEA.
We welcome the opportunity to provide this training using modules pre-developed by InterAction, as a pilot of their recently updated PSEA training materials.
Fees for summer school include:
All training modules will be available in both English and French. If your organization will need training in a language other than English or French, or would like custom training and other organizational support (i.e. policy review, coaching, etc.), please contact us to explore the availability of support, and associated costs.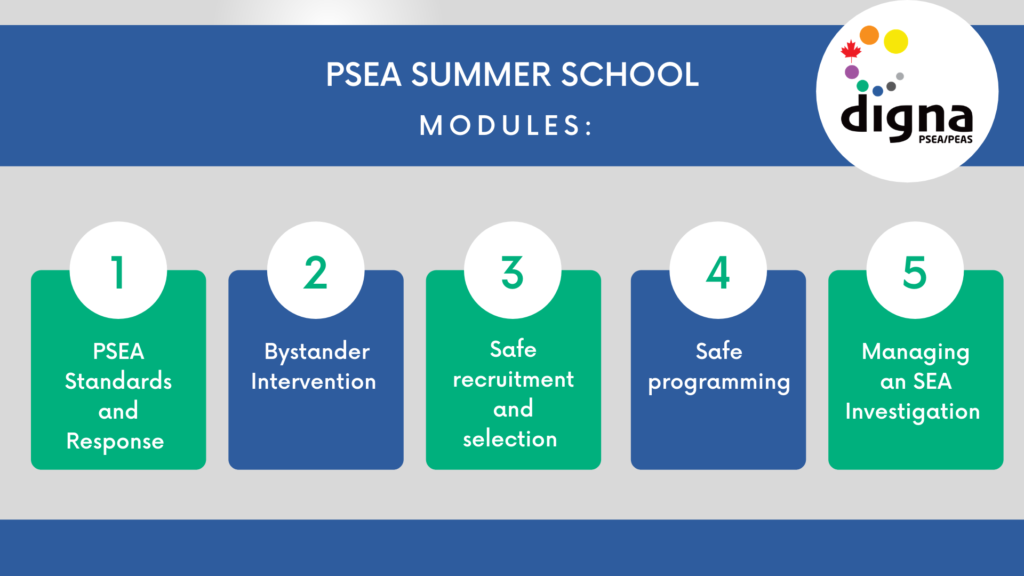 Please register online for each module that meets your needs. The Summer school will run 8 sessions between July 7th and September 1st, on Tuesdays and Wednesdays.
*PLEASE NOTE THAT MOST ENGLISH SESSIONS ARE FULL, SO WE HAVE OPENED A SECOND COHORT TO RUN ON TUESDAYS*
Are You Ready To register?